---
---

Boards That Love Fundraising: A How-To Guide For Your Board

by Robert Zimmerman and Ann Lehman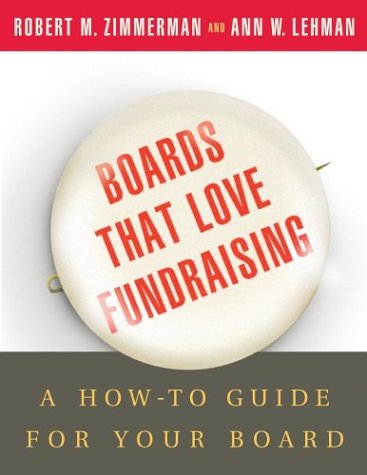 Paperback, 128 pages, February 2004, Jossey-Bass
US List $37, ISBN: 0-7879-6812-9
Order now at Amazon.com List $37 Now $33.54 or less for used (Reviews on Amazon)

See ZL's Boards That Love Fundraising PPT Handout
E-Publication also available at Jossey-Bass ($29.99)

Written by Robert Zimmerman and Ann Lehman - leading experts in the field of fundraising and board development - Boards That Love Fundraising: A How-To Guide For Your Board not only shows that all board members (no matter the level of experience) can learn to raise funds, but also provides effective tips to the more experienced fundraisers. This workbook published by Jossey-Bass offers inspiring examples of boards that have grown from fear and loathing of fundraising to eager anticipation. This inspiration is accompanied by practical advice and exercises for boards based on the authors' extensive experience in working with nonprofits of all sizes. This invaluable book:
Provides information on board structure and its impact on raising money
Outlines the concepts that will empower you to ask for money effectively and fearlessly
Describes the wide variety of methods nonprofits use to raise money and the board's role in each
Shows how to recruit board members who can help with fundraising
Explores the vital issues of fundraising, planning, staffing, evaluation, and working with consultants.

Table of Contents

About the Authors

Excerpt from Chapter 1: Boards That Love Fundraising: Specific Responsibilities

Excerpt from Chapter 2: Getting People to Ask for $$

What people are saying about Boards That Love Fundraising


The Foundation Center review, Philanthropy News Digest
"If an organization is not receiving sufficient donations, it often is because "the board and staff members don't ask for money effectively, they don't ask often enough, and sometimes they don't ask - period."


The Chronicle of Philanthropy - "Advice to Help Board Members Raise Money"
"The book provides tips to help board members overcome the fear of rejection and feel more comfortable asking for support -- they should not view fund raising as begging, for example, but as 'creating opportunities' for people to 'invest in successful enterprises.'"


The Contra Costa Times - A "Couple find passion in fund-raising lessons"
"He (Bob Zimmerman) makes it (fundraising) seem very doable, very easy... he makes it seem easy. He takes the mystery out of it."


The San Francisco Chronicle - "Authors Urge Nonprofits to Cultivate Individuals"
"The fund-raiser is not lightening the donor's wallet but rather is extending a hand. He is less interested in scoring a gift than in creating opportunities for the giver and receiver to achieve something together."


"A Book Board Members Will Actually Read" (Amazon reader)
"[Board]Members were very receptive to the book, it is short, sweet, and easy to follow. It is filled with training guides, examples, and exercises you can do with board members to prepare them for making an ask."

© 2012 Zimmerman Lehman

This information is the property of Zimmerman Lehman. If you would like to reprint this information, please see our reprint and copyright policy.