CREATING INCLUSIVE NONPROFITS BOTTOM TO TOP (Recent)
Portland, OR Alliance for Nonprofit Management Conference, October 7, 2015..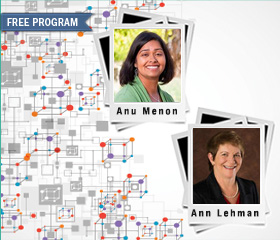 .Many believe that inclusive organizations increase strategic thinking, improve responsiveness to community/clients, lead to a broader donor base and attract the most talented workers, but find it a challenge to put into practice. What are the policies and processes we need to make this happen? Learn from the latest data and trends, lessons learned. Lead Presenters: Ann Lehman and Anu Menon
Workshop previous offered at the San Francisco Foundation Center (May 2015), here is what the review: What a critical and timely topic that clearly resonated with audience knowledge gaps......there is a real hunger for this information and we are grateful to you for helping us in our work of connecting social sector organizations to the knowledge and resources they need to thrive. Janet Camarena, Director, SF Foundation Center
THE 21st CENTURY WORKPLACE FORUM, show casing gender equality model practices. Ann moderated a panel of experts from each company including, Symantec Corporation; Baker & McKenzie; Deloitte LLP; Bayer HealthCare; eBay Inc.; Charles Schwab & Co.; ATT; Twitter; Levi Strauss & Co. See Ann's introduction to the panel.